Zoomografo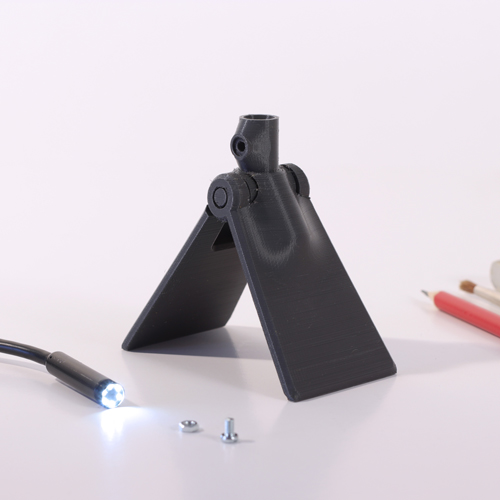 A tool to zoom text and images, to write and sign through smartphones and tablets.
level simple
time 3 hours, 10 min
license CC-NC-BY-SA
Why you made it?
Giovanni and Alice have serious visual impairments and they needed a tool, simple and portable, to enlarge text and images with even the possibility of writing or signing documents.
What is it dong?
This tool is able to zoom images and texts through an endoscope equipped with LEDs. Simple to use.
How the object is made?
Zoomagrafo is made of a 3D printed body, an endoscope for portable devices (smartphones and tablets), a 3mm screw and a 5mm bolt.
Zoomografo is the careable dedicated to visually impaired people that allows you to zoom words and images without losing the thread of the sentence. The object is entirely printed in 3D in a single piece pre-assembled and adjustable, equipped with light and wifi endoscopic camera that connected to your smartphone or tablet facilitates the reading experience, but also writing.
What I need to build it?
3D printer, screwer, tweezers, ø3mm screw (5mm length) with bolt (ø5mm).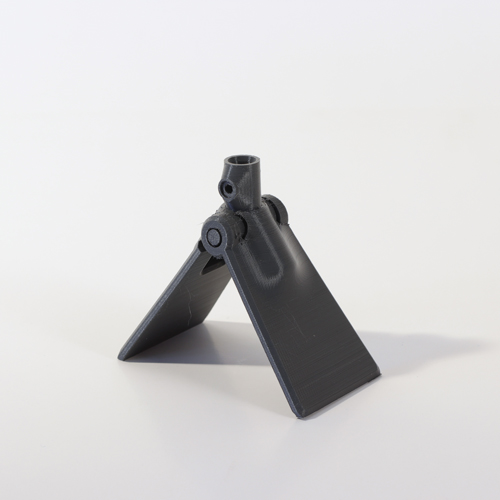 Step 1

1. Download 3D file and print it

Time: 120 mins
Download the 3D file from here.

Print settings:
Nozzle .4mm
Layer height max .15mm
Wall thickness from 1.05 to 1.4mm
Top/Bottomo thickness from .75 to .8mm
Speed 50mm/s
Zig-Zag support 20%
PLA filament color: black or dark grey
Time: about 3h 30min
How can you print in 3D?
You don't need to buy a 3D printer, but first at all you can look for the closest fablab to you. Otherwise, there's many printing service online, we suggest this websites:
http://3dhubs.com
http://shapeways.com
Price: 20-30€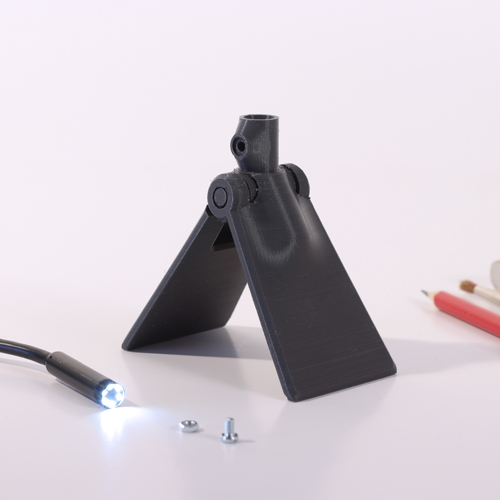 Step 2

2. Buy what you need

Time: 15 mins
What you have to buy
You have to buy the endoscope. For this project we used this one that you can find in Amazon for 27€:
https://www.amazon.it/gp/product/B075F88QHG/ref=oh_aui_detailpage_o06_s00?ie=UTF8&psc=1 Be careful: you can choose various types of endoscopes, the important thing is that it can be connected to smartphones and tablets and has a diameter of no more than 9mm.
You have to buy a ø3mm screw (5mm length) and the bolt. You can find them on Amazon for xx€:
https://www.amazon.it/acciaio-304-Viti-testa-tonda-bullone/dp/B013T1U4LG/ref=sr_1_20?ie=UTF8&qid=1530699096&sr=8-20&keywords=vite+e+bullone+3mm+5mm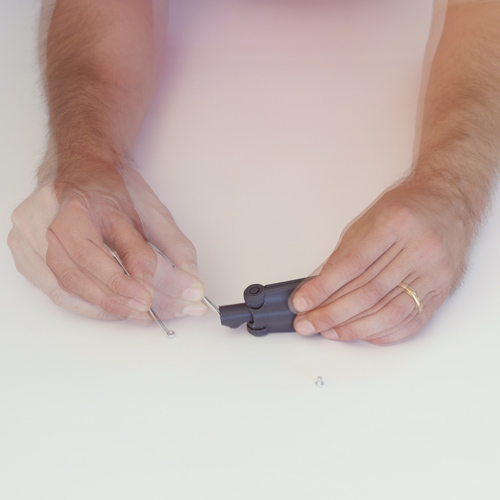 Step 3

3. Insert the screw and the bolt

Time: 10 mins

Use the tweezers to put the bolt inside, and then use the screwer to insert the screw. You must be calm and patient like when you make hobby modeling …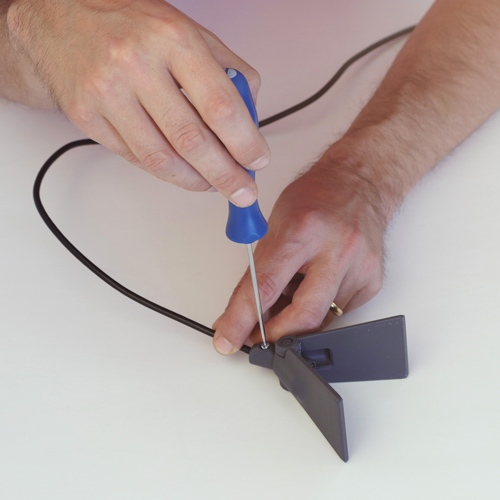 Step 4

4. Fix the endoscope

Time: 10 mins

Insert the endoscope in the Zoomografo, and then fix it enough with the screwer.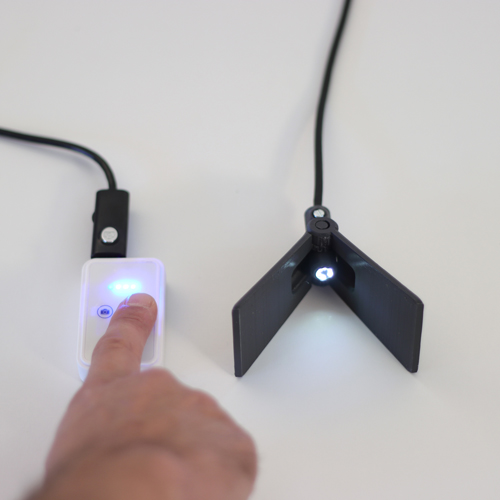 Step 5

5. Turn on the endoscope

Time: 5 mins

On the box of the endoscope (the box also creates a Wi-Fi network) there's the button to turn on. Press it and that's it! On the side of the usb cable there's a wheel to regulate the power of LEDs.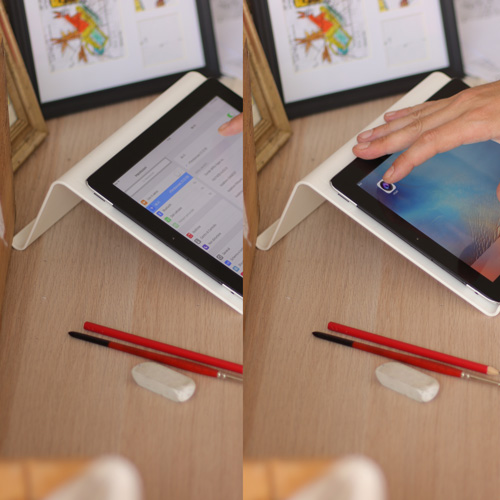 Step 6

6. Download the App and connect the device to endoscope's Wi-Fi

Time: 15 mins

In the endoscope box you will find the instructions (easy) to download the App for your device and (important) the password of the network.
In this model the app is HTwifi:
iOS https://itunes.apple.com/it/app/htwifi/id1180327326?mt=8
Android https://play.google.com/store/apps/details?id=com.htwificameracn.bestwifiboxgdzs&hl=it
The password for the network is 88888888.
Every endoscope has its own specific App and its password.
So, choose the endoscope network and enter the password. Open the App and choose your camera. Well, you're done!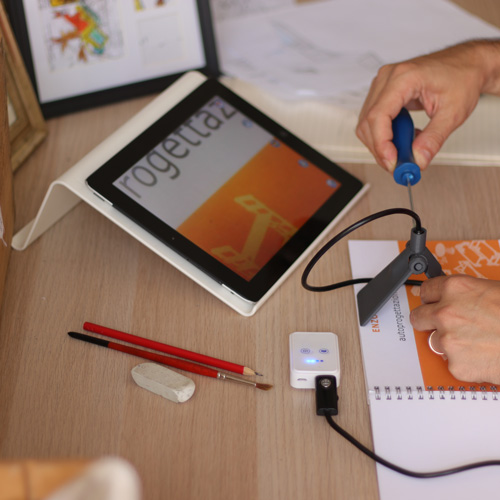 Step 7

7. Align the camera

Time: 10 mins

You're almost done. This is the most important moment to use your Zoomograph correctly.
You must choose a book or magazine and find a reference to align your camera.
Once aligned, fix it well with the screwdriver, and you're ready!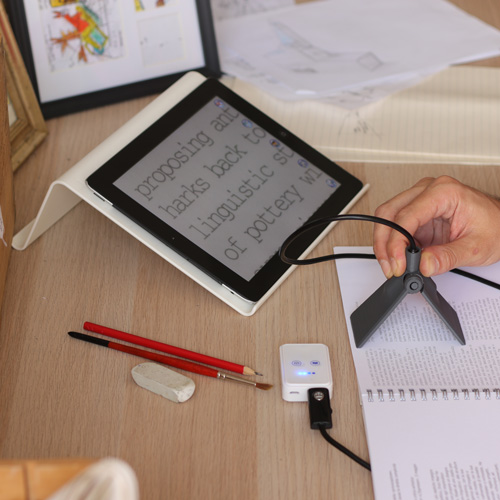 Step 8

8. Enjoy

Time: 5 mins

Now you can read from your device having a great zoom. You can help yourself with a ruler if it suits you.
Contributors
Enrico Bassi, tutor and maker
Sebastiano Ercoli, designer
Rosa Garofalo, assistive technology expert (ANS)
Daniela Meroni, architect
Francesco Rodighiero, designer and team leader
Giovanni & Alice, users